Proform Tour De France Pro Exercise Bike
/

Compare at: $1,699.00
( / )
Condition - Open Box (never owned) - View Condition Definitions Warranty - 3 yr exchange / parts warranty Incline - YES Delivery Option - (see shipping calculator for local and nationwide delivery cost) / will-call pickup is FREE. Lowest prices online GUARANTEED! Find a lower price online and we'll beat it! Save on shipping with FREE...
The Best Cycling Equipment Available, Now in Your Home
A Highly Effective, Low Impact Workout
Get fit on your own time with an indoor cycle that pushes you to be your best. Change gears and feel the natural resistance of the world's hills and valleys from inside your home.
Uphill or Downhill, Let the Road Decide
Feel the hills throughout your ride. The TDF Pro features a unique 20% incline to 20% decline capability that gives you the experience of a realistic, real-road feeling. As you cycle with iFit® Coach, your trainer automatically inclines or declines your bike to match the grade of the workout. Make your training more intense and burn more calories by cycling at an incline.
Silence Never Sounded So Good
Experience a smooth, friction-less, and silent ride with our patented SMR™ Silent Magnetic Resistance, which allows you to adjust your training intensity without interrupting your workout or anyone around you
10" of Swipeable High Definition
Keep up on your workout stats in real time, all while you cycle. Our huge, built-in 10" Smart HD touchscreen display lets you follow your iFit® Coach trainer through beautiful global locations and heart-pumping studio classes.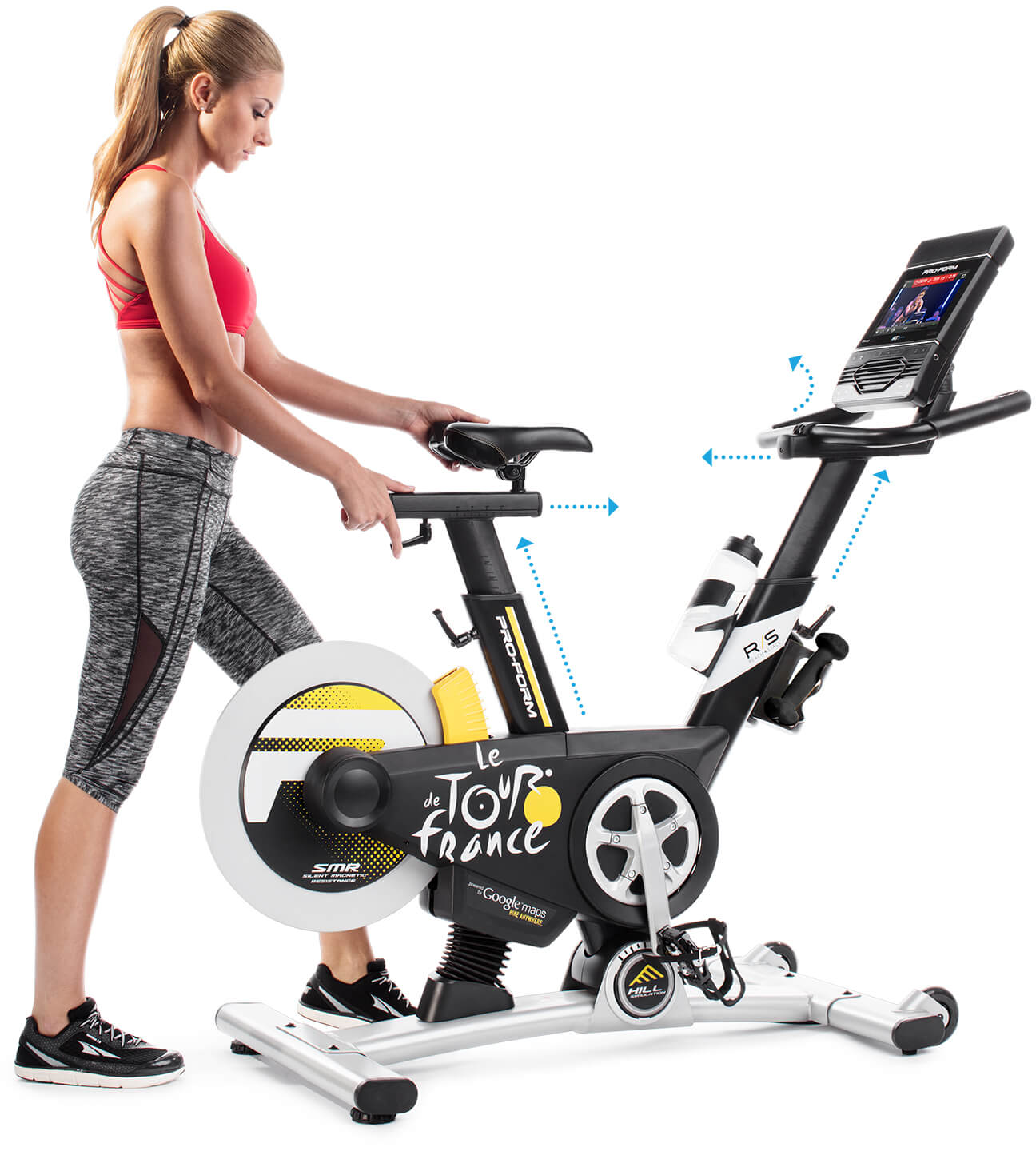 Complete Customizability
Put yourself into position for the best chance at success. The TDF Pro is both adjustable and modifiable for a perfectly fitted training experience. Make this bike your very own with total customizability.
Handlebars
10.5" Adjustable Stack (Vertical)
3.5" Adjustable Reach (Horizontal)
Rotation for Comfortable Upright or Aggressive Drop Position
Saddle
13" Adjustable Stack (Vertical)
4" Adjustable Reach (Horizontal)
Interchangeable
Pedals
Optional Toe Cages
Optional Clip-Ins
Interchangeable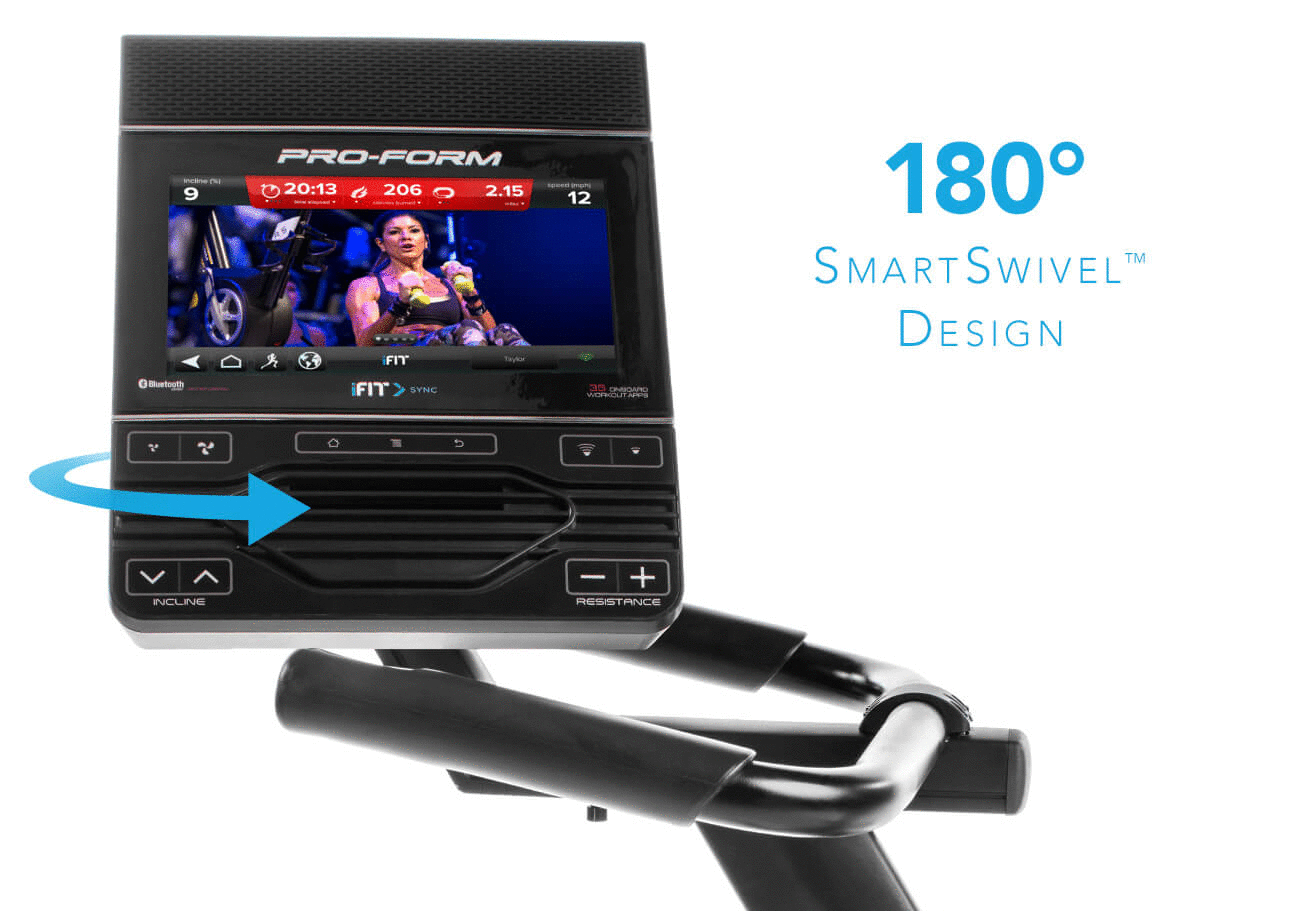 A Pivotal Moment For Your Fitness
Stay entertained when you want to get off the bike to do some cross-training. The TDF Pro features a Pivot Screen with SmartSwivel™ Design so you can turn the screen 180°, as well as tilt up or down, so you can continue watching your entertainment, even when you're training off the saddle.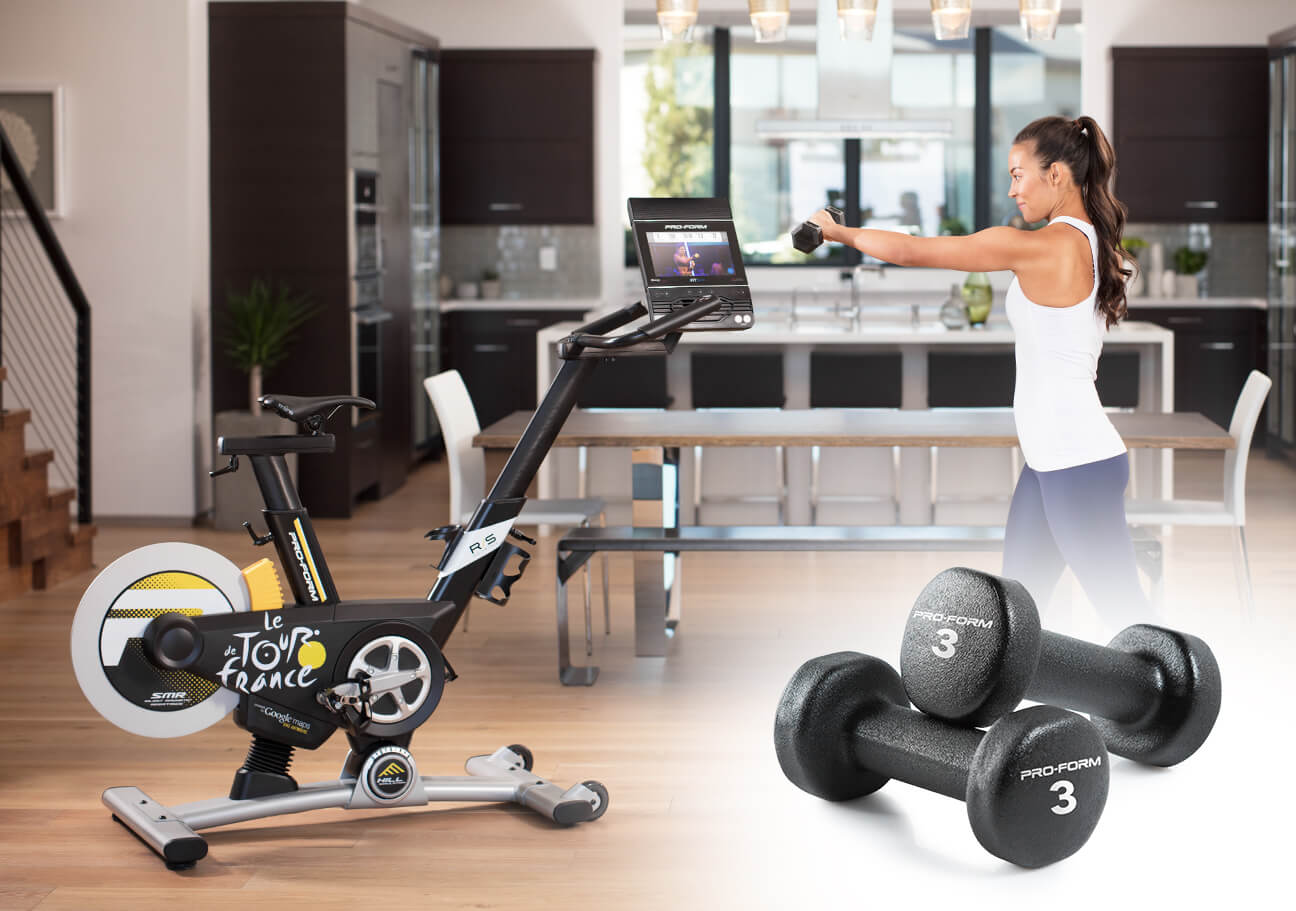 Throw in Some Upper-Body Strength
Prepare yourself for a full-body training session. This bike isn't only about toning your legs. Two 3-pound dumbbells are included with the TDF Pro to give you the opportunity to bring upper-body exercises to your workout. When you're finished, put them back into the conveniently attached dumbbell holders.
---
Tech Specs
Technology
Expand All
10" Smart HD Touchscreen Display
24 Tour de France Workouts
EKG Bluetooth® Compatible Heart Rate Receiver*
Engineering
Upright Frame with Commercial-Grade Solid Steel Construction
26 Digital Resistance Levels
20% Incline and 20% Decline Capability
Multi-Position, Adjustable Handlebars
Toe Cage and Clip-In Pedals
Inertia-Enhanced Flywheel
Comfort
Integrated Tablet Holder with DeVice Grip™ Design
Front-Mounted Transport Wheels
Additional
25" Width x 64.75" Depth x 59" Height
LOCAL DELIVERY is $125 (door to door) no matter what you buy. 
WE ARE CURRENTLY ONLY DELIVERING WITHIN THE SOUTHERN CALIFORNIA AREA. We will deliver up to 80 miles from 90058 to be exact (La County, Orange County and some parts of the San Bernadino & Ventura counties)
DOOR TO DOOR MEANING - 
Door to door means: Outside of your home door or inside of your garage. If you live in an apartment, the drop will be to your apartment building front or back door unless your apt. door is accessible from the street. You can select a door drop / garage drop delivery option at the checkout screen. Local delivery is $125. Pick up is always free!
INSTALLATION MEANING & REQUESTS
Any delivery past the home or apt building front door would be defined as an install. Installation / white glove delivery is NEVER INCLUDED in the $125 cost of door drop delivery. Installation / white glove delivery must be quoted based on your site and difficulty of the install. Install price may range from $25 (easy) to $100 extra (LOTS of stairs, narrow hallways etc). This cost is always paid COD. You can request an installation quote when the delivery team calls you to coordinate a drop-off.
PICK-UPS
If you select a "will-call pick-up" option, you will be sent an email (usually within 24 hours) when your order is ready to pick up. Feel free to pickup at your convenience. There is no need to call ahead.
Warehouse pick-up hours:
M-F 10am-6pm
Sat  10am-2pm
Sun 10am-2pm

New Life Cardio Equipment
2438 E 55th St 
Huntington Park Ca 90058 
323-345-7216
By purchasing from New Life Cardio Equipment, you agree to our warranty, return / exchange policy as well the product conditions! PLEASE READ AND REVIEW CAREFULLY before purchasing!!
WARRANTY / RETURNS
All new, open boxed and commercial serviced machines have a 3 year exchange warranty: N.L.C.E. will repair or replace any machine with damages not caused by negligence or normal wear and tear (Normal wear & tear parts include: running belts, bike belts, brake pads, hand grips, touch pads & stickers) Once an item leaves our warehouse all sales are final! If you have not retrieved your machine yet, a refund can be done ONLY within 7 days after purchase. You will be charged a 5% reverse transaction fee. 

Warranty exchanges and repairs can be done for free at any time within 3 years but YOU (the customer) assumes responsibility for shipping and any transport cost, back to the merchant. If YOU (the customer) can not bring the machine back for a warranty exchange or a repair, an in home service call can be requested. N.L.C.E. will cover any cost associated with parts however labor cost is not covered. Used (as-is) products have no warranty.
INSTALLATION
New Life Cardio Equipment (or it's affiliate's) will not be responsible for moving any personal property in order to install your equipment. If we find that challenges (not mentioned) present a harder installation, you may be charged an addition fee for more man-power or difficulty. It is the receiver's responsibility to carefully check the entire delivery for completeness and any evidence of shipping damage. Damages, shortages or discrepancies must be noted and signed for on the shipping documents and returned to the merchant. Any claims for any damages of the machine or personal property are void after installation is completed. If New Life Cardio Equipment attempts to make a delivery and no one is present at the address, a re-delivery charge may be assessed.



PRODUCT CONDITION DEFINITIONS (What to expect)
NEW CONDITION - Never Owned
SOLD - IN A BOX  -  For this price, everything is included with the machine that is found in the original box items.
PHYSICAL CONDITION –  Perfect! No bumps, scratches rust or bruises. Please consult with a N.L.C. representative if you have questions or special request regarding the physical condition of your machine.
INTERNAL CONDITION – Perfect
WARRANTY – Same as manufacturer (usually 3 yrs exchange / parts)


OPEN BOX CONDITION - Never Owned (Liquidated Items)
SOLD - OUT OF ORIGINAL BOX - Open box condition machines are fully assembled liquidated items direct from the manufacturer. These items were scheduled to be recycled because they could not be sold in stores for whatever reason: Usually because of a bump or a bruise or something minor or maybe the machine just arrived in a bad box.

The serials have been removed

 by the manufacturer but rather than recycle them straight away, they are offered to the public (for a short time) for much less than retail.

YOU DO NOT REGISTER any open box item

! Your invoice is your proof of purchase as well as your warranty reciept. All liquidated, open boxed items are either the most current year versions or previous year versions. For this price ONLY THE machine is sold. Any accessory items such as ifit free trail membership, chest straps, free-weights, machine manuals etc or anything in the original box are not guaranteed to be included! In some cases we may be able to source certain items at the customer's requests. Please consult with a N.L.C. representative if you have questions or special request regarding what is included.
PHYSICAL CONDITION – Open Box items are NOT physically perfect. These have been on a showroom floor. Consequently they may have bumps and bruise or minor rust but NO BROKEN parts unless otherwise specified in the description. As a courtesy our technicians will clean, re-paint and service any glaring physical attributes that may be deemed a concern. This is a courtesy and it is not an obligation. Please consult with a N.L.C. representative if you have questions or special request regarding the physical condition of your machine.
INTERNAL CONDITION – Perfect
WARRANTY – 3 yrs exchange / parts. This warranty is NOT an original manufacturer warranty. This is a "Liquidation" warranty. Contact N.L.C.E. for all warranty exchanges or repairs. 
USED / AS-IS or PREOWNED CONDITION
SOLD OUT OF ORIGINAL BOX - These are return items that were scheduled to be recycled because they were returned by the customer within 30 days. The serials have all been removed by the manufacturer but rather than recycle them straight away, they are offer to the public (for a short time) for significantly less than retail. Pre-owned items are the current year or previous year versions.
PHYSICAL CONDITION – PRE-OWNED items are never physically perfect. These will have clear signs of usage: bumps, bruises, rust etc but NO BROKEN parts! Please consult with an N.L.C. representative if you have questions or special request regarding the physical condition of your machine.
INTERNAL CONDITION – Inspected to be working 100%. Any defects, missing parts, failing functions will be disclosed and also written on the invoice.
WARRANTY – NO WARRANTY. In some case we can offer a limited in-store 'repair only' or 'parts only' warranty.

Please read the description of each item carefully and consult with an N.L.C. representative if you have questions or special request regarding the warranty on any USED item.
Acima Instant Credit
 

No Credit Needed

Everyone at New Life Cardio is committed to making the journey to health and wellness more affordable and attainable for our customers. We are constantly looking for new ways to help our customers get the exercise equipment they need to reach their fitness goals.

For this exact reason we are happy to announce our partnership with Acima, who will provide instant credit on any of our exercise equipment models. With Acima you can get per-approved before you shop, so that you get the equipment you want without waiting.