Proform SMART Pro 2000 Treadmill
Condition - Open Box (never owned) - View Condition Definitions SELLER CONDITION NOTES: Fully Assembled showroom model. Small crack in handle next to HR sensor which does not affect performance or void warranty. (See photos)  Warranty - 3 yr exchange / parts warranty Engine - 3.5 CHP Mach Z™ Commercial Pro -3 –...
Expert Personal Trainers in Your Living Room
No longer do you have to spend time going to the gym for a good workout. Exercise with personal trainers on your own time in the comfort and privacy of your own home. The SMART Pro 2000 makes reaching your fitness goals accessible with streaming trainer-led global and studio class workouts.
Scenic locations
iFIT trainers move your transformation forward by interacting with and controlling the SMART Pro 2000's speed and incline.
Streaming Global and Studio Class Workouts
See the world while you run through cities and trails, or get pushed in a studio class, all while being led by a personal trainer in your home.
Connected Fitness Tracking
Check your progress as every training session is automatically recorded and even used to influence future exercises and nutrition plans.
◊iFIT experience shown. Internet and WIFI required. iFIT membership activation requires credit card and auto-renews for fee.
Train Higher. Train Harder.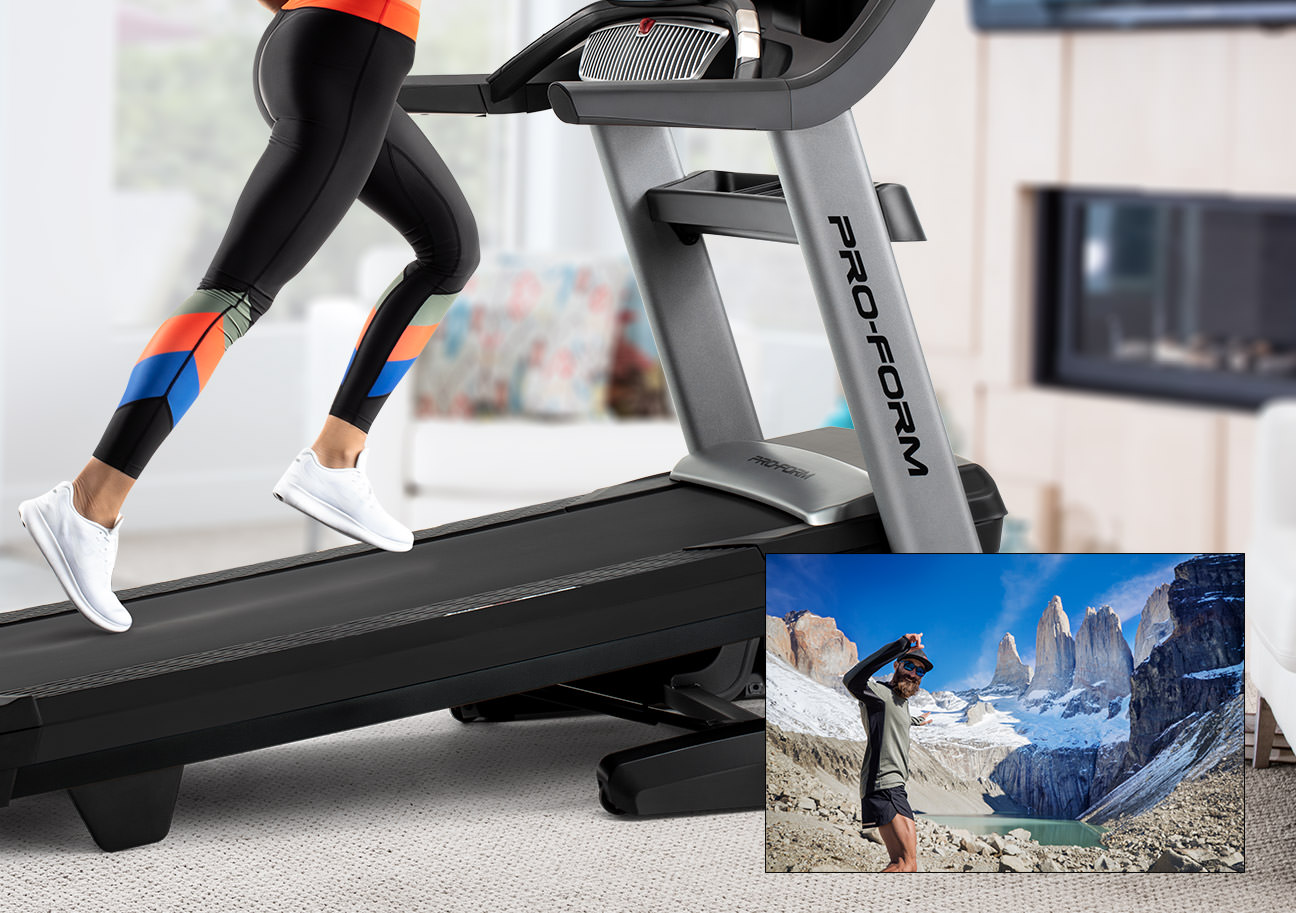 Perfect for the Home
Folding for Freedom
The last thing you need is something taking up more space around your house. That's why we engineered the SMART Pro 2000 with SpaceSaver® Design, so you can conveniently fold the deck up and out of the way. And as an added bonus, we built in a powerful shock called EasyLift™ Assist that helps you lift and lower the deck with an easy push.
Comfort Meets Performance
Body Conditioning Meets Air Conditioning
Our built-in CoolAire™ fan keeps your workout comfortable from the moment you step onto the deck to the moment you step off. Choose from two speed settings for instant control—because one of the joys of indoor workouts is climate control. Even if it's raining, foggy, blazing hot, or bad air quality outside—you'll be comfortable inside.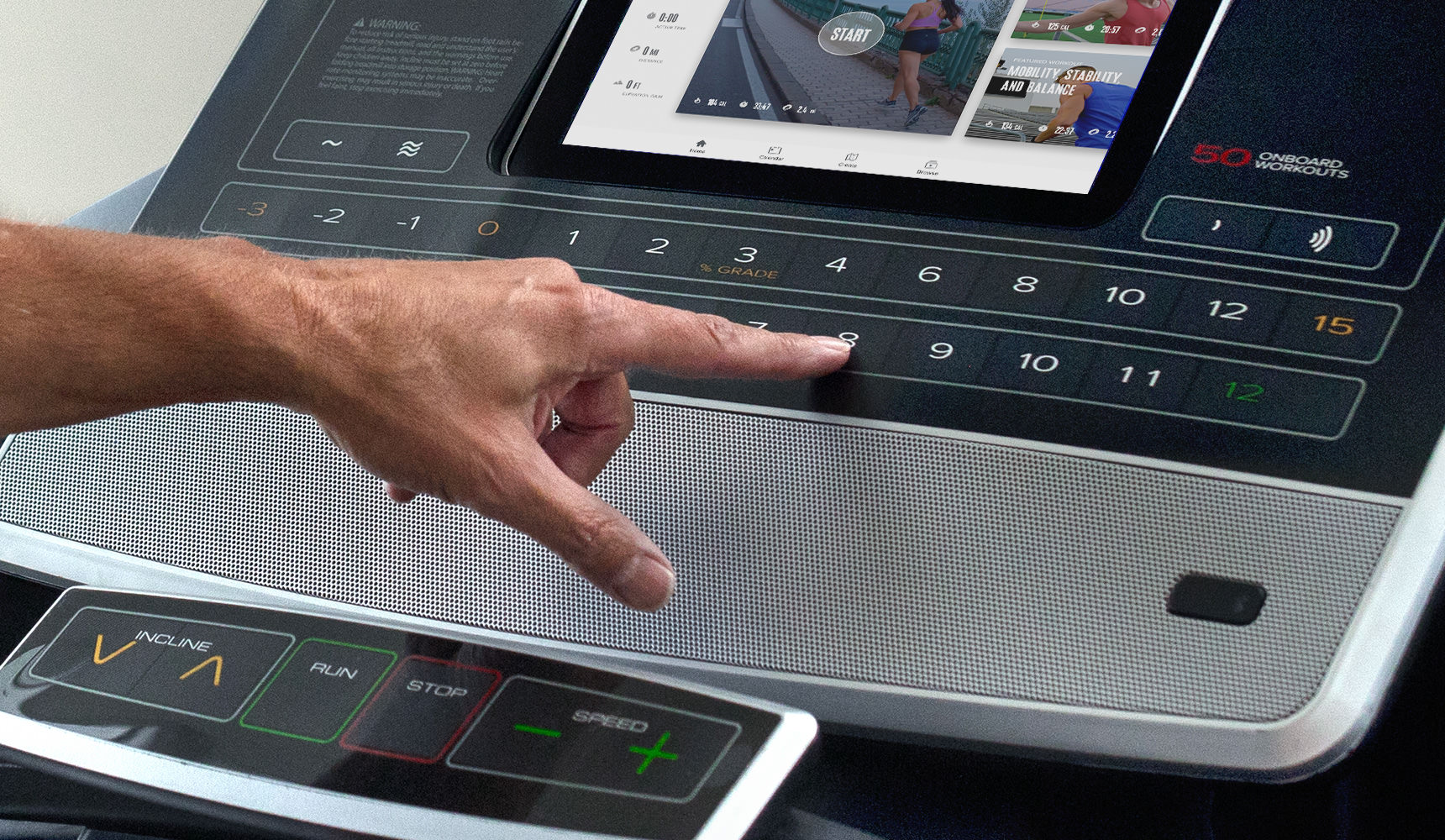 ---
Tech Specs
EKG Grip Pulse Heart Rate Sensor*
3.5 CHP Mach Z™ Commercial Pro
0 – 12 MPH Digital QuickSpeed® Control
-3 – 15% Digital Quick Decline™ & Incline™ Control
SpaceSaver® Design with EasyLift™ Assist
Integrated with DeVice Grip™ Design
Audio Auxiliary Port with Dual 3" Bluetooth Speakers
39.15" Wide x 79" Deep x 71.4" Tall
SHIPPING WITHIN the Southern California Region:

You can get an accurate door to door delivery quote at the checkout screen by entering your zip code. Pick up is always free! Installation / white glove delivery is NEVER INCLUDED in the cost of delivery. Installation / white glove delivery must be quoted based on your site and difficulty of the install. Install prices may range from $25 - $100 additional. This cost is always paid COD!
Machines below $499 can (only) be picked up at our Los Angeles showroom or delivered locally for a quoted prices (see above). There is no charge for local pickup.
Please note that the cost for shipping is per machine and not per order. Certain exclusions may apply. Call with questions.

323-345-7216
Open 7 Days a week - 10am-6pm

New Life Cardio Equipment
2438 E 55th St 
Huntington Park Ca 90058 
DELIVERY SET UP
A representative from New Life Cardio Equipment will contact you once your order's delivery date and time has successfully been set up. Delivery times are scheduled in 2-hour blocks. Depending upon your geographic location, you will be routed accordingly by our driver. Company policy requires that someone of legal age be present at the time of delivery to sign for, inspect and assist in the unloading process if necessary. All orders are considered "DOOR DROP" unless installation details are written on the receipt. Your equipment will be delivered to your doorstep or garage. It is your responsibility to install your equipment in your desired location. 
SPECIAL:
ALL BRAND NEW, BODY SOLID machines and FLOORING ITEMS are drop-shipped to your home and DO NOT QUALIFY FOR FREE SHIPPING. You will either be contacted for shipping cost or you can elect to pay shipping COD. Shipping cost for NEW items is usually about 10-15 % of the item cost. 
For your convenience, drop ship cost can be quoted over the phone! 
323-345-7216
We're open 7 Days a week - 10am-6pm

New Life Cardio Equipment
2438 E 55th St 
Huntington Park Ca 90058