Proform Cardio Hiit Trainer Elliptical
Condition - Open Box - View Condition Definitions  SELLER CONDITION NOTE - Showroom models! GREAT physical condition! PLEASE NOTE: TABLET and tablet holder attachment NOT INCLUDED. Delivery Option ETA - 1 to 3 Business Days Fully Assembled  Warranty - 3 yr exchange / parts warranty Weight Capacity - 350lbs Incline - No  Delivery Option - (see...
The Ultimate Cardio Workout
Burn More Calories in Less Time With HIIT
Step up to new heights on the SMART HIIT Trainer. Combining the movement of climbing stairs with the intensity of boxing, each workout helps you activate more muscles throughout your whole body while burning more calories.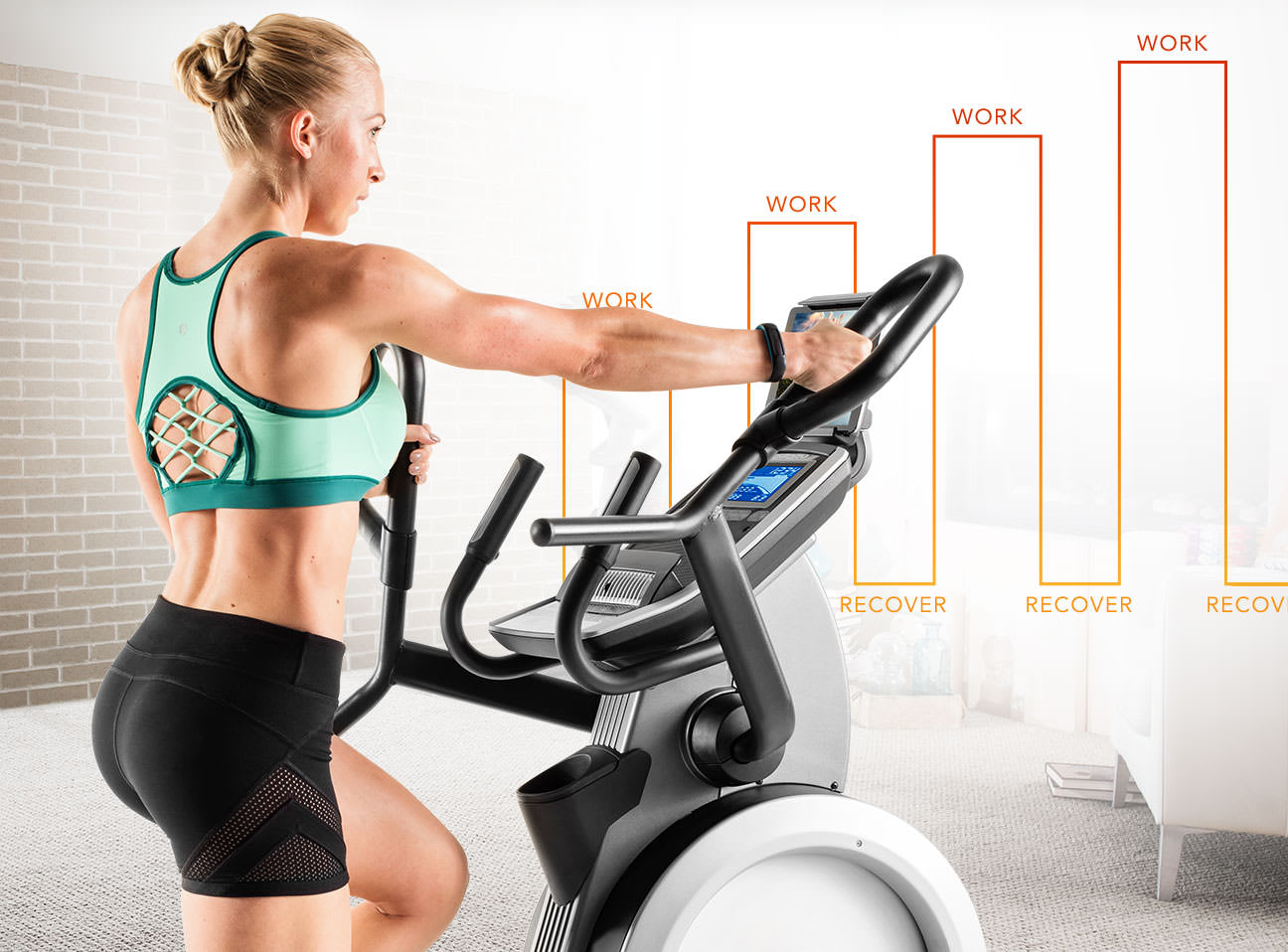 What is HIIT?
High-Intensity Interval Training, or HIIT, is a training technique that involves repetitively giving 100% effort for a set amount of time followed by short recovery periods. You'll get and keep your heart rate up, burning more calories and building strength throughout your workout.
Activate More Muscles
Combining a 10-inch vertical elliptical stepping path with powerful, upper-body punching actions, the SMART HIIT Trainer simulates stair climbing and boxing, allowing you to activate your calves, hamstrings, quads, glutes, biceps, and triceps—all in a single movement.
Unique 10" Vertical Path
Unlike other stepper machines, the SMART HIIT Trainer is designed for your feet to travel on a 10-inch vertical and 5-inch horizontal elliptical path. This motion puts you on track to burning more calories and building more strength.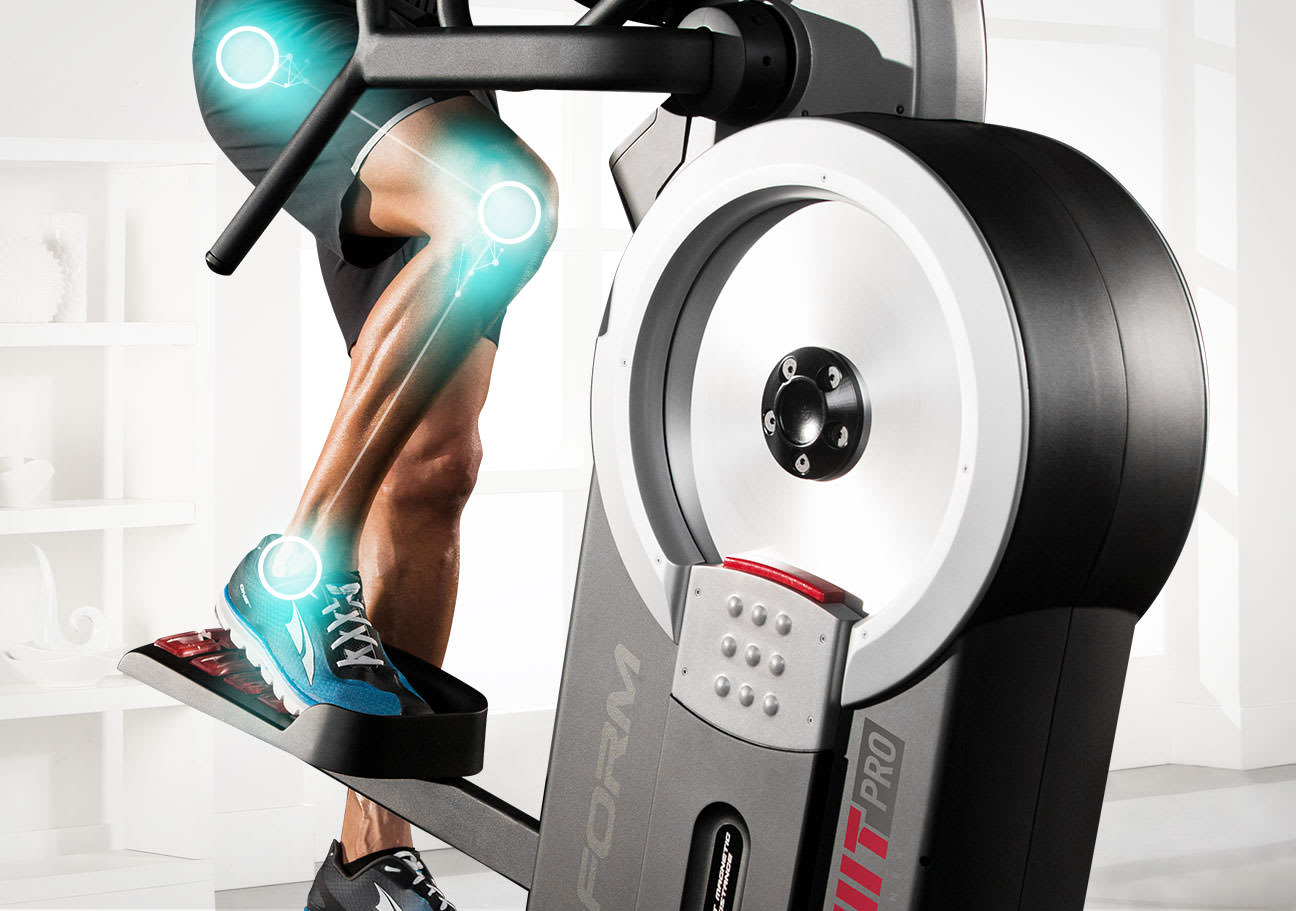 Smooth Moving
Put your joints at ease while in the middle of a challenging workout. With the SMART HIIT Trainer, your feet never leave the pedals, giving you a zero-impact experience to help reduce stress on your joints and back.
---
Your Silent Workout Partner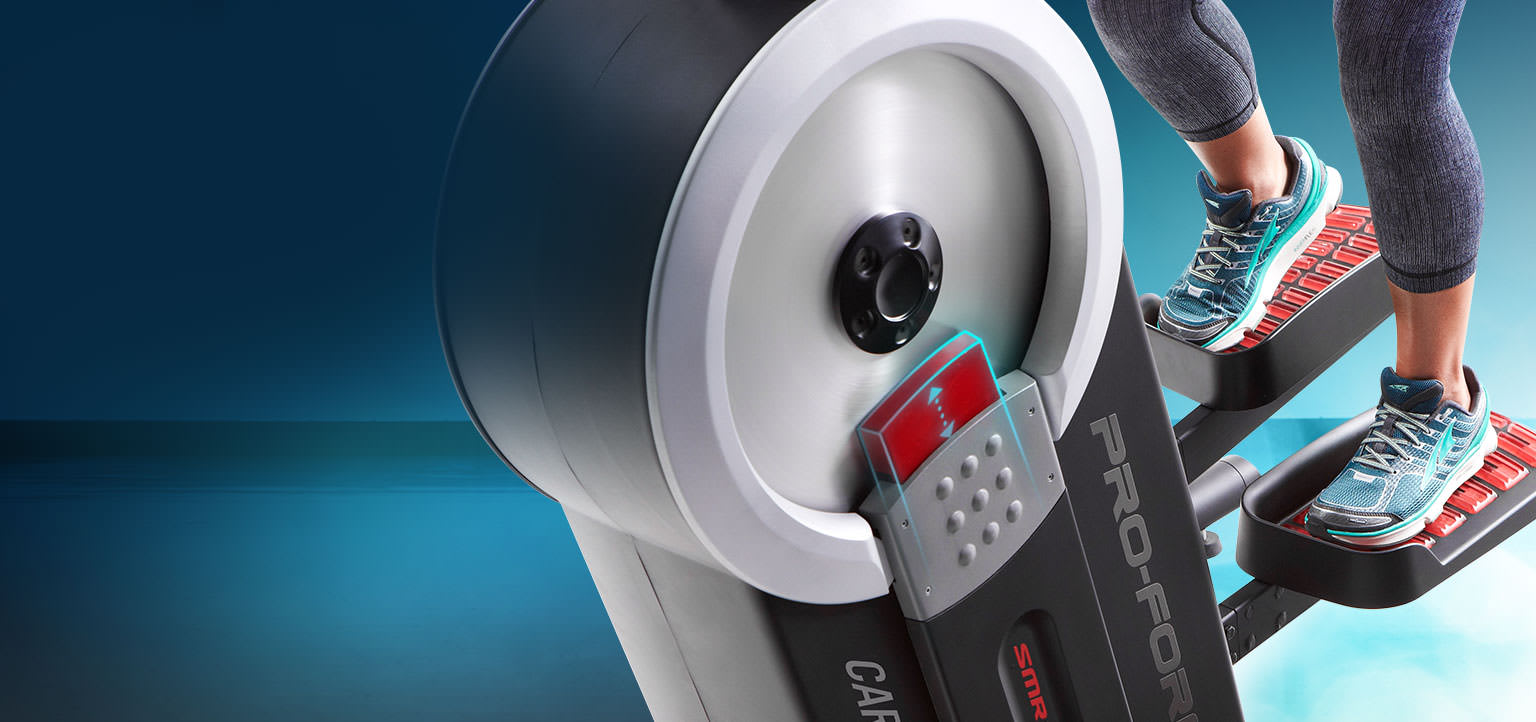 SMR™ Silent Magnetic Resistance
Forget noisy air resistance trainers. The SMART HIIT Trainer brings SMR™ Silent Magnetic Resistance to your training. It's quiet, smooth, and durable so you can focus on your workout—without disturbing your home.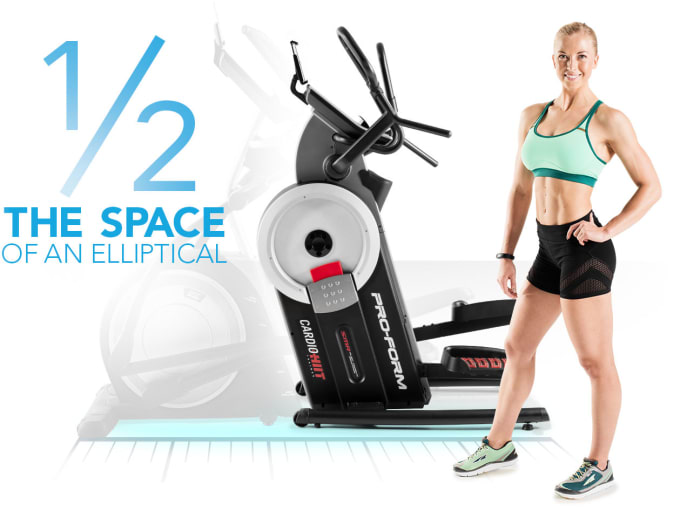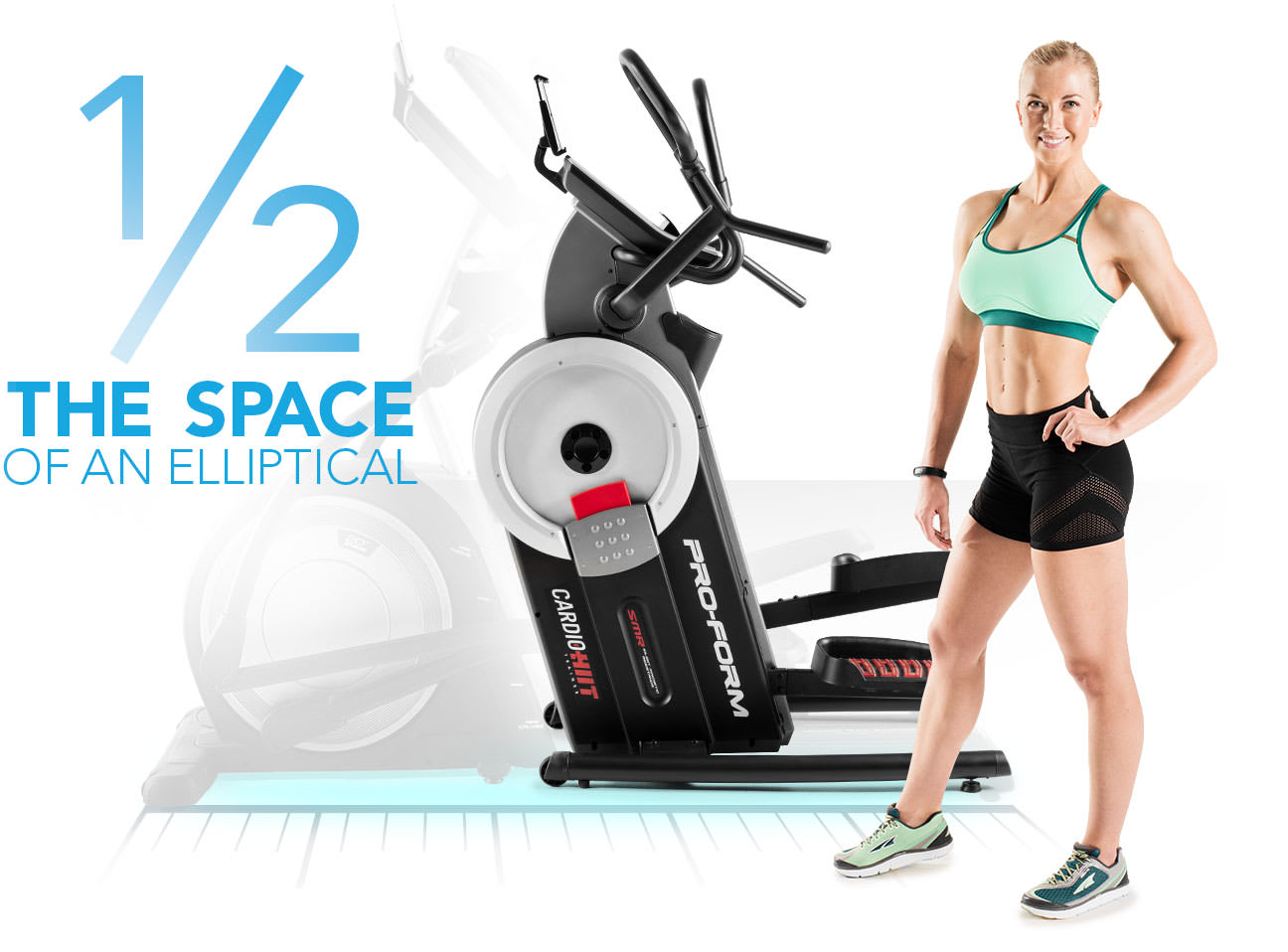 Keep Your Floor Space Yours
One of the biggest concerns people have about in-home fitness equipment is the amount of space it takes up. The SMART HIIT Trainer resolves those concerns. The compact footprint takes up half the space of a normal elliptical exercise machine.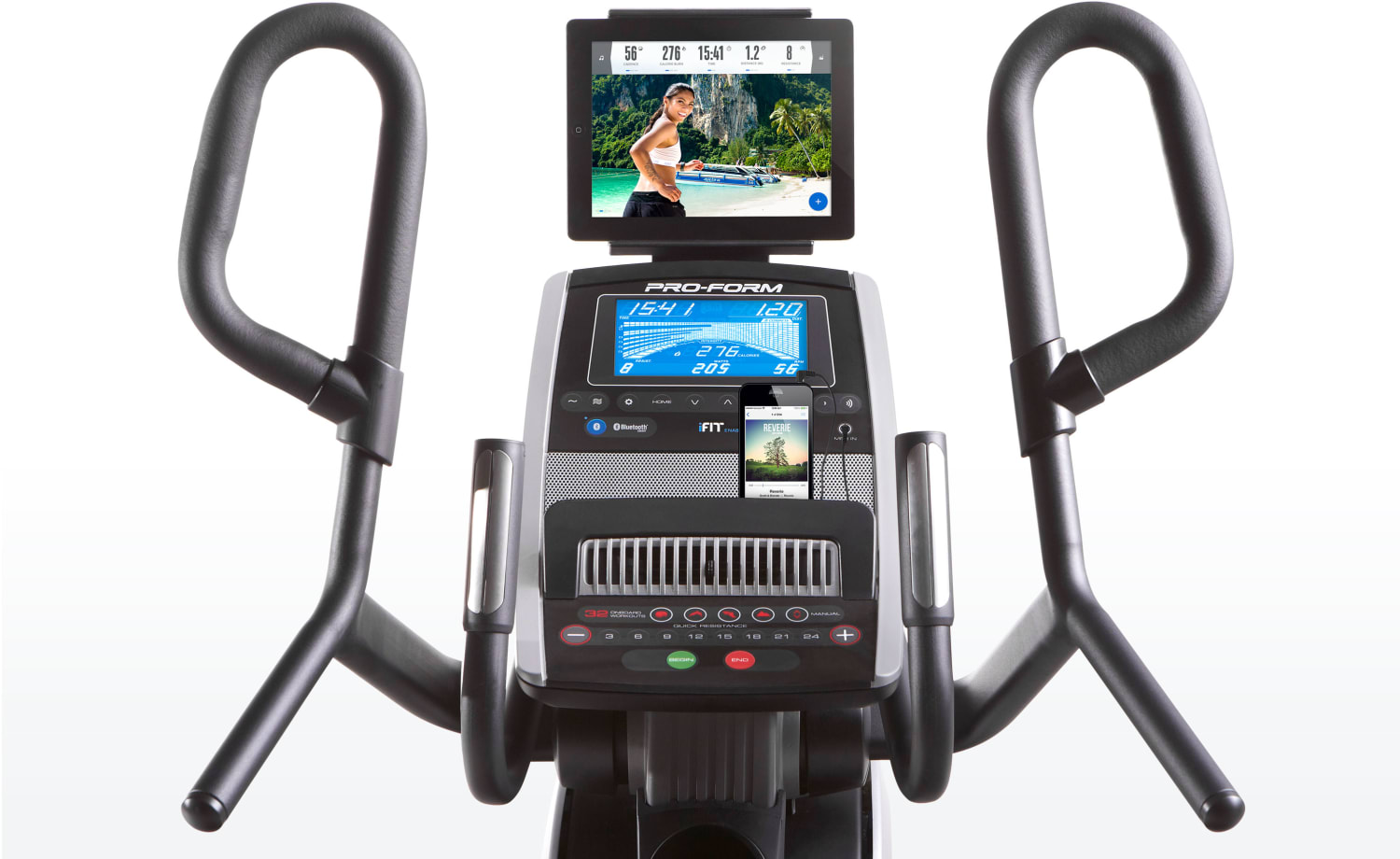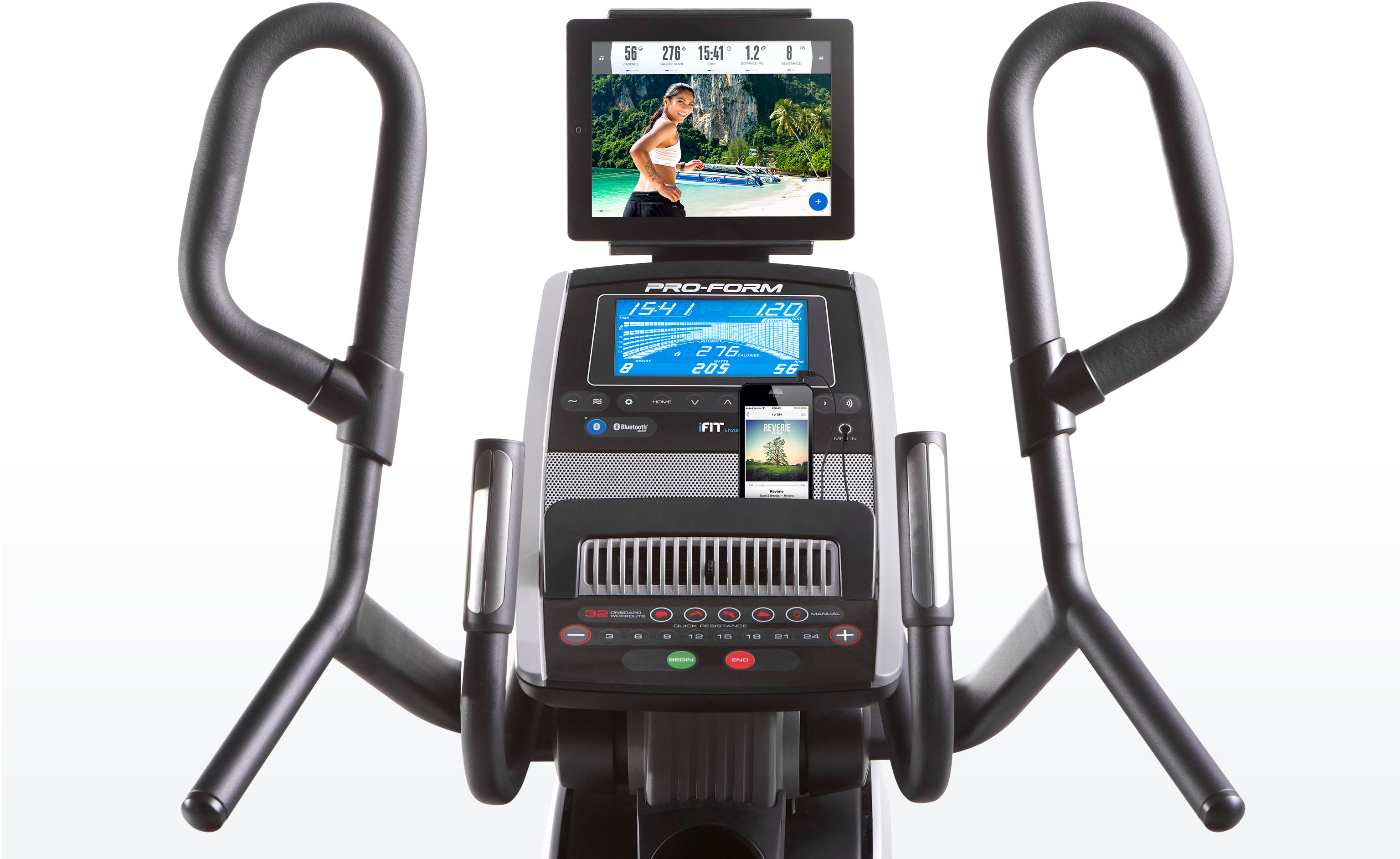 Smooth Performance
Use the built-in 7" backlit display to swipe through your speed, time, distance, calories burned, heart rate, and more. Large, easy-to-press buttons make it simple to change your resistance level in an instant. Control your workout effortlessly by managing your audio, fan, workout programs, and much more.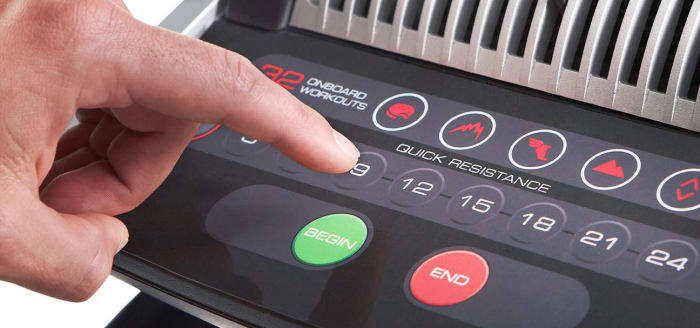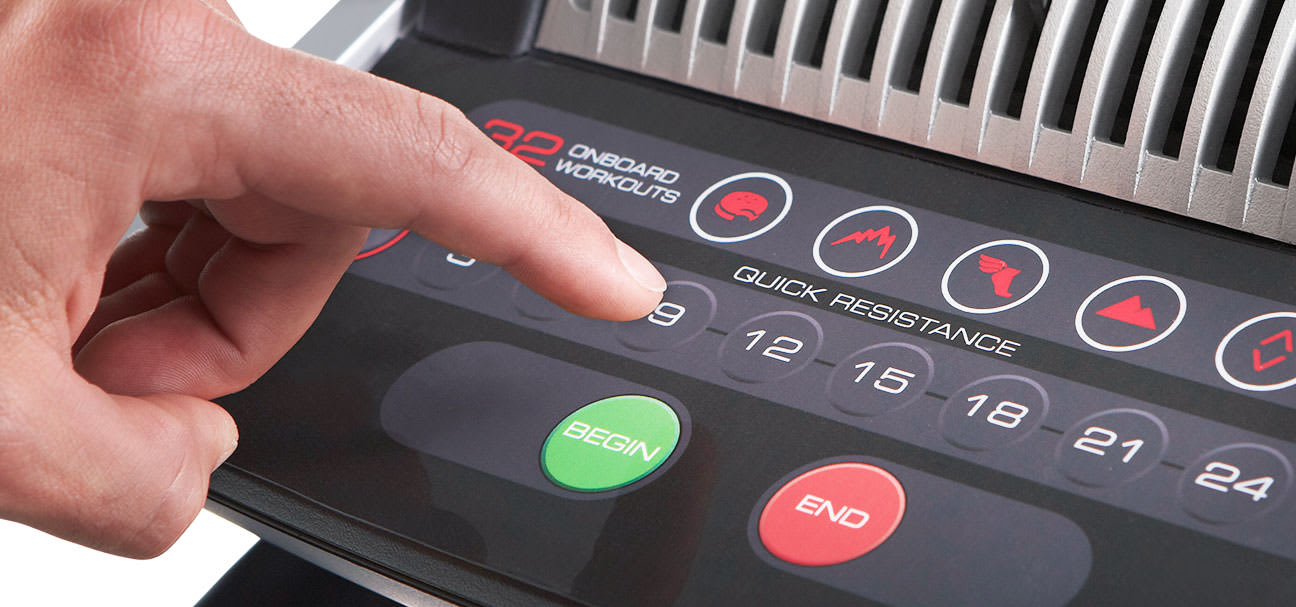 Precision Training
Build the strength you need without the hassle. The SMART HIIT Trainer comes equipped with precise Quick Touch controls. Instantly change your resistance level at the touch of a single button.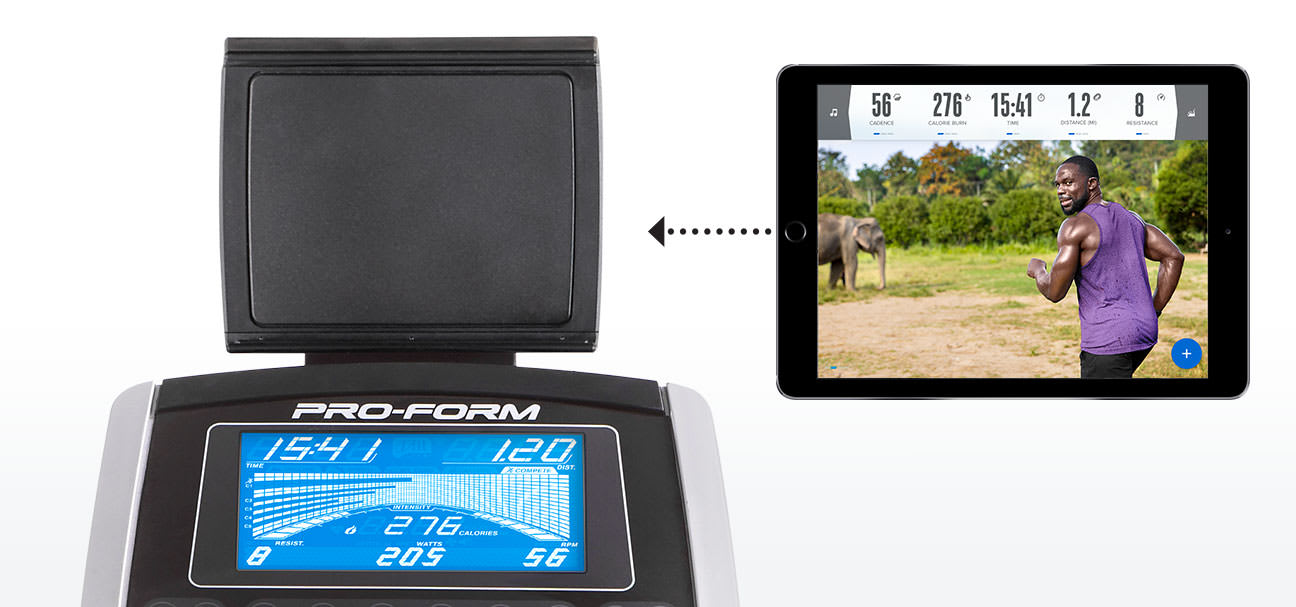 Tracking Meets Entertainment
We know when you've made up your mind about getting fit, you mean business. So we made sure your workout stats are right in front of you as you work out. And, add entertainment to your training by putting your own tablet into the attached tablet holder.
---
Tech Specs
EKG Grip Pulse Heart Rate Sensor with Included Chest Strap
Engineering
10" Vertical, 5" Horizontal
Multi-Function Handlebars
Oversized, Cushioned Pedals
28 Lb. Effective Inertia-Enhanced Flywheel
Comfort
Front-Mounted Transport Wheels
Additional
Commercial-Grade Steel Construction
66.7" H x 29.25" W x 52" D
Warranty - 3 Year Exchange
SHIPPING WITHIN the Southern California Region:

You can get an accurate door to door delivery quote at the checkout screen by entering your zip code. Pick up is always free! Installation / white glove delivery is NEVER INCLUDED in the cost of delivery. Installation / white glove delivery must be quoted based on your site and difficulty of the install. Install prices may range from $25 - $100 additional. This cost is always paid COD!
Machines below $499 can (only) be picked up at our Los Angeles showroom or delivered locally for a quoted prices (see above). There is no charge for local pickup.
Please note that the cost for shipping is per machine and not per order. Certain exclusions may apply. Call with questions.

323-345-7216
Open 7 Days a week - 10am-6pm

New Life Cardio Equipment
2438 E 55th St 
Huntington Park Ca 90058 
DELIVERY SET UP
A representative from New Life Cardio Equipment will contact you once your order's delivery date and time has successfully been set up. Delivery times are scheduled in 2-hour blocks. Depending upon your geographic location, you will be routed accordingly by our driver. Company policy requires that someone of legal age be present at the time of delivery to sign for, inspect and assist in the unloading process if necessary. All orders are considered "DOOR DROP" unless installation details are written on the receipt. Your equipment will be delivered to your doorstep or garage. It is your responsibility to install your equipment in your desired location. 
SPECIAL:
ALL BRAND NEW, BODY SOLID machines and FLOORING ITEMS are drop-shipped to your home and DO NOT QUALIFY FOR FREE SHIPPING. You will either be contacted for shipping cost or you can elect to pay shipping COD. Shipping cost for NEW items is usually about 10-15 % of the item cost. 
For your convenience, drop ship cost can be quoted over the phone! 
323-345-7216
We're open 7 Days a week - 10am-6pm

New Life Cardio Equipment
2438 E 55th St 
Huntington Park Ca 90058